About Us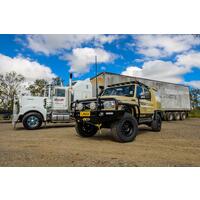 Welcome to the "4X4 And Outdoors" Online Store,the online store where you will find accessories and upgrades for your 4x4 and outdoor lifestyle.
Here at 4x4 And Outdoors we are proud in knowing we have the best brand selections when it comes to fitting out your 4x4. Having many varieties to meet all of our customers needs, from towing your caravan, to the serious off roaders. We really are the one stop shop for all your touring, towing and roof rack needs!
With payment plan options available (Zipmoney & Zippay) nothing can stop you from having the vehicle of your dreams.
Still unsure or cant find what you are looking for? Leave us a message and one of our friendly and knowledgeable staff will assist you.
Point of Contact:
Address: 2 / 3 Monte St, Slacks Creek 4127
Phone: 1300 308 873
Email: shop@bkrgroup.com.au